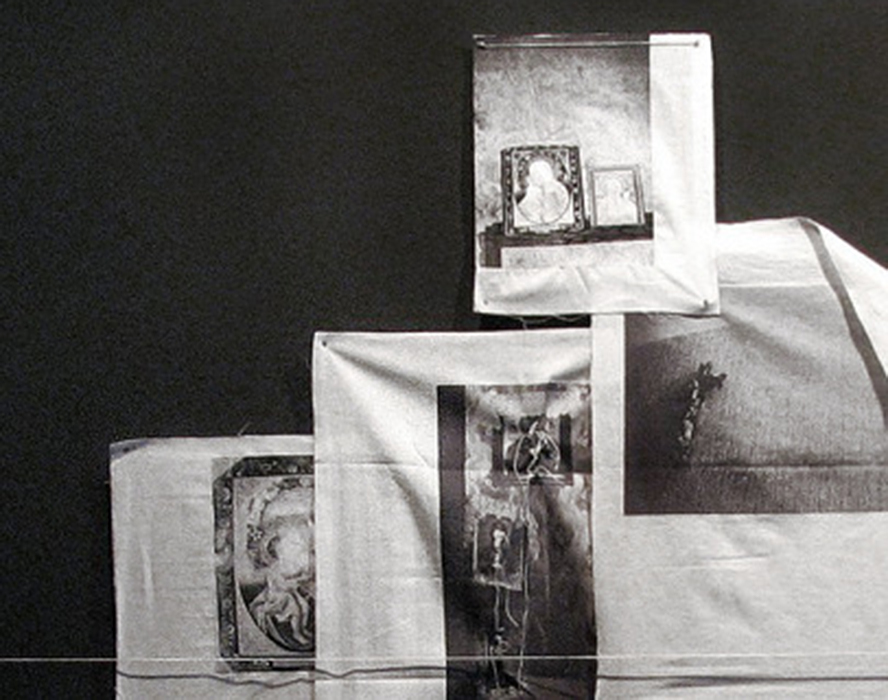 The installation Presence was first created in 2011.
The artist found and photographed items of religious worship, religious symbols, images found in the parents' house: icons, lamps, crucifixes, etc. Photos like a document were printed on white cloth, forming a kind of personal altar.

All images are hidden from a viewer's direct view. Faces of saints on icons are "destroyed" by the artist: they are sewn up, flash-illuminated, cut out, hidden from viewers' eyes by an overlapping hanging of works – so that it is impossible to fully see the images.

Zhanna Gladko works with the topic of ambivalence expressed in this work by the technique of "aesthetics of destruction". But does the artist destroy the religious images, or try to sacralize in this way and preserve them from extraneous views?
The artist separates the viewer from the images, extending in front of the work a restrictive white thread that crosses and protects the polyptych. Just as in the museum space the viewer's approach to the most valuable works of art – modern "icons", is limited, creating a distance.





The "Presence" project was based on the principle of self-exploration, studying the phenomenon of presence as the existential given. The concept of presence in philosophy (Dasein in Heidegger) defines a hidden ability in a person to understand being in general.
Destroying or denying any phenomenon, its presence is thereby revealed, affirmed. In this work the artist is guided by the philosophical principle – presence through the absence, denial through the statement.

In addition, the artist is interested in the phenomenon when the material image is made sacred and endowed with animate characteristics emphasizing the fine line between faith and superstition, Christianity and paganism – the worship of the objects of worship. The artist also considers such a phenomenon of tradition in Christianity, as coming up to kiss icons, relics of saints, kissing the cross and images on icons.

The part of the work was the installation with religious frameworks, from which the artist took out the image of the saints, leaving only the frames. On the surface of the glass prints were left that remained from touching the icon. Formally, the artist tried to show the invisible (physiological) side of faith.


---
Shadow of Freedom (Paradzhanov Festival)
Suputnik place, Lviv, Ukraine
2017
In 2017, the Presence series was supplemented with a triptych, which was made in the framework of the residence in Lviv at the festival dedicated to the memory of Sergei Paradzhanov, in whose work religion occupies one of the most important places for research. The filmmaker borrowed the images for his films from the canonical Christian iconography.


The presented photographic triptych was made by the artist using images on icons and paintings from Lviv temples, including the Church of the Mantle of Our Lady, which is located in Levandovka – the venue of the festival within the framework of the residence.